Founder
Sally Poveromo M.E.D., founder and owner of Planet Gymnastics in Natick, and Little Flippers Swim School in both Natick and Winchester, introduces Sweet Peas Educational Gymnastics to Winchester. Her research, training and experience of over 30+ years as a child development specialist in both gym and swim environments allows her to share her true passion, using movement activity to help children learn and grow. Sally has over 30 years of combined experience as a collegiate competitor, teacher, coach, and judge. She has opened 3 gymnastics facilities and 2 learn to swim centers in the past 25 years and continuously follows her values learned as an athlete – those of hard work and dedication to excellence.
"I'm proud to serve my community by offering healthy experiences to children."
"I'm committed to my staff, customer service, and understanding how best to offer quality physical activity to our youth."
Sally holds certifications through USA Gymnastics, United States Swim School Association, and the International Association for Swim Schools. She serves on the Education committee for the USSSA and has been recognized at the national SUMMIT for the Professional Development of Youth Sports, Performance, and Education. When not at work you can find Sally on the tennis court, biking, or out running. She has completed 3 Boston Marathons as well as the Chicago Marathon, the New York Marathon, and the Paris Marathon. In addition she has rode in the Pan Mass Challenge 3 times completing 180 mile rides each time.
Our Management Team
Miss Christine is very excited to be a part of the Sweet Peas Educational Gymnastics team as the General Manager. I have been working in the youth sports and recreation field for over ten years and have enjoyed every opportunity I have received thus far. I started out as a swim instructor when I was 15 years old. I joined the Little Flippers team in 2014 and loved growing and learning with the company. I have experience in and out of the pool through different sports and children's fitness clubs. Throughout the years, I have developed a teaching style that is engaging, individualized and, most of all, fun! Each students' new "lightbulb" moments are always so rewarding – seeing them work so hard to overcome a difficult task when finally, the lightbulb goes off and they figure it out. Working with children has always been a highlight in my life. Children possess such caring, loving, and creative spirits; which are core values I hope to bring into each lesson.
Outside of the gym, you can find me hanging with my dogs, Gus and Jack and exploring new artforms such as; calligraphy, painting, crocheting, and most recently, photography. I have always had a passion to explore new places. Between hiking local trails with my dogs, traveling to the west coast, or finding new beaches in the area, I love learning about new landscapes and the cultures that encompass them. This led me to achieving a degree in Geography, concentrating in Global Studies, from Framingham State University.
Miss Lisa is our Consulting Program Director. She grew up in Belmont and lives in Natick with her husband and two children.  She graduated from the University of Hartford and received a BS in Human Services and minor in Psychology. Physical fitness and athletics have always been important to her. She competed in gymnastics in high school, played Division I softball in college, continues to play softball in the summers, and is a marathon runner. She started working at Planet Gymnastics in 1997. "My teaching philosophy is to make sure that when a child participates in the gym program they learn gymnastics skills in an exciting, energetic, and safe environment. Just as important, they can relax, have fun, and feel comfortable with me as their instructor." Lisa holds all certifications through USA Gymnastics including Safety, Professional Development I, Kinder Accreditation for Teachers, Movement Education and Lesson Plan Development, Hands on Training Preschool and Recreational, and is First Aid/CPR certified. Lisa was invited to be a speaker at the USAG National Congress held in Anaheim, California and also the USAG Regional Congress held in Newton, MA. Her presentation was entitled: "Who's in Charge Anyway? Creative Approaches to Co-Teaching a Parent-Child Program". E-mail her at lisab@planetgym.com.
Staff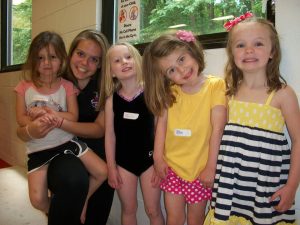 Our staff has been chosen and trained as child development experts in the educational gymnastics niche. Together we have the shared value of continuous learning and improvement of our programs. A program manager oversees the curriculum, staff, and gymnasts involved at that level. Every year the program director and teaching staff attend national trainings offered through USA Gymnastics and Sweet Peas founders plus others from all over the country to learn and share what is current in the industry.
Each staff director and instructor is USAG Safety Certified and holds a:
USAG Professional Development Certification
Kinder Accreditation and/or CPR and First Aid Certification.